Our debt to the heroic men and valiant women in the service of our country can never be repaid. They have earned our undying gratitude.
Harry S. Truman
Ladies for Liberty
Ladies for Liberty have been known for their renditions of 1940s, WWII, 1950s Korean War Era, and 1960s Vietnam War Era music. We are still presenting this program of the Andrew Sisters style of music through their own rendition of vocals, costumes, hairstyles and the spirit of patriotism reminiscent of the 1940s and 1950s.
We have been honored to attend and perform four times in Normandy, France for the DDay Anniversaries. Planning on returning in 2022.
Where we have performed
Upcoming Events
| | |
| --- | --- |
| December 6-10, 2021 | Intl Council of Airshows Convention |
| December 12, 2021 | Morgan & Nay Christmas/Patriotic Show |
View Upcoming Events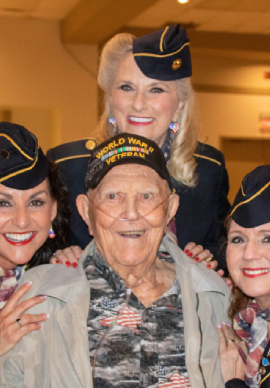 Let us take you back in time
We hope you enjoy your time browsing through our photo gallery and watching our videos while you're here.

The music of the World War II era reflects the spirit of those people. You can feel it in the lyrics and melodies they created. The Andrew Sisters, in particular, brought a spark of relief and joy, which helped to lighten the load for the American soldier as well as the folks back home.

We hope to see you soon at one of our upcoming events or hear from you regarding a program we can put together for your organization.